Welcome to Western Fictioneers
An organization of professional authors of western novels and short stories.
Western Fictioneers is a professional writing group that encourages and promotes the traditional western. We, as writers, envision our own ideas of how to tell our western stories and bring them to life in any number of ways: from screenplays to short stories; from novels to poetry; and now, even in the shared western universe of post-Civil War Wolf Creek, Kansas.
We look to expand our realm of western story-weaving to new readers by roping in the younger readers, the disillusioned readers, and the unsuspecting readers. Original fans of the western genre will be at ease to know their favorite standard authors, as well as some newcomers to the playing field, stand ready to deliver the very best of exciting western reading adventure available.
It is my pleasure to be able to continue the proud goals and objectives that were set in motion under our two previous presidents, Frank Roderus and Troy D. Smith.
It is said that John Wayne made the statement, "The western will never die." I agree wholeheartedly—but not just when we're talking movies! Westerns have grown and evolved, yet the basic elements remain constant. It is our hope that you will enjoy many hours of reading entertainment in the stories told by the members of our group, for as long as the Western Fictioneers are here to tell their tales and readers enjoy them, the West is truly here to stay!

Cheryl Pierson
Western Fictioneers President 2014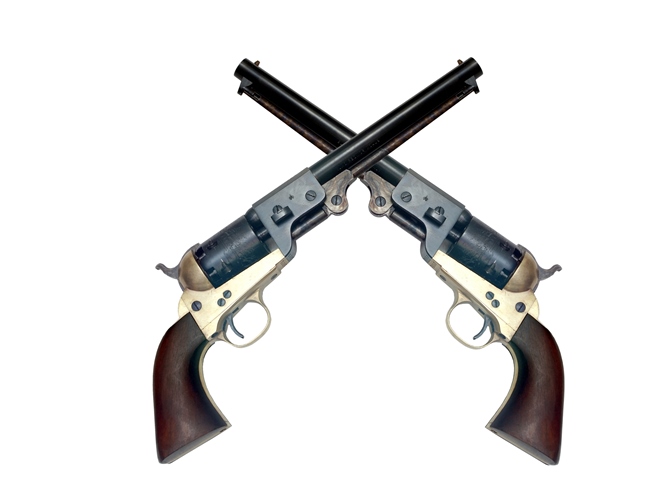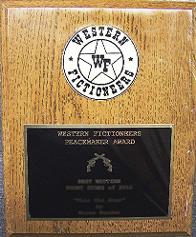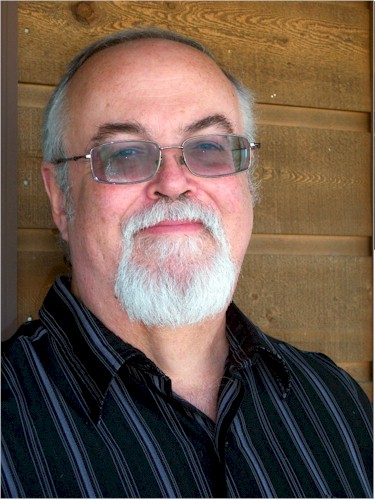 Lifetime Achievement Award
This year's Lifetime Achievement Award goes to best-selling author James Reasoner. In addition to his many critically acclaimed novels, James was also the first vice-president of Western Fictioneers and helped mold the organization into what it is today.

5TH ANNUAL PEACEMAKER AWARD NOMINATIONS
2015 BEST WESTERN NOVEL

WINNER--THE BIG DRIFT - Patrick Dearen (TCU Press)
Finalists:
BUST OUT – W.M. Shockley (Western Trail Blazer)
MORGAN – Frank Roderus (Wolf Pack Publishing)
THE PIANO PLAYER – Carolyn Niethammer (Oak Tree Press)

DESPERATE STRAIGHTS – Janet Squires (Whiskey Creek Press)
2015 BEST FIRST WESTERN NOVEL


WINNER--CATTLE DRIVE – Big Jim Williams (High Noon Press)
Finalists:
PRODIGAL GUN - Kathleen Rice Adams (Prairie Rose Publications)
COMANCHE TRAIL – Carlton Stowers (Signet)
THE PIANO PLAYER – Carolyn Niethammer (Oak Tree Press)
THE CALLING – James P. Hanley (5 Prince Publishing)
2015 BEST INDEPENDENTLY PUBLISHED WESTERN NOVEL


WINNER--HANGMAN'S KNOT - James Reasoner (Rough Edges Press)
Finalists:
OUTLAW RANGER – James Reasoner (Rough Edges Press)
LEFT HAND KELLY – Elizabeth Foley (Second Sentence Press)
FUGITIVE TRAIL – Wayne Dundee (Bil-Em-Ri Media)
TRAIL REVENGE – Wayne Dundee (Westward Tide Productions)


2015 BEST SHORT FICTION

WINNER--THE 2ND BEST RANGER IN TEXAS – Kathleen Rice Adams (Prairie Rose Publications)

Finalists:
LAW DOG – Wayne Dundee (Western Trail Blazer)
THE RESURRECTION – McKendree (Mike) Long (La Frontera Publishing)
THE BUFFALO RUNNERS – D.B. Jackson (La Frontera Publishing)
GUNFIGHTER'S GIFT – Vonn McKee (Western Trail Blazer)
Congratulations to all of the winners and finalists!
Western Fictioneers (WF) was formed in 2010 by Robert J. Randisi, James Reasoner, Frank Roderus, and other professional Western writers, to preserve, honor, and promote traditional Western writing in the 21st century. Entries were accepted in both print and electronic forms. The Peacemaker Awards are given out annually. Submissions for the Peacemaker Awards for books published in 2015 will be open in July, 2015. Submission guidelines will be posted on the WF web site.
Western Fictioneers would like to thank C. Courtney Joyner for being Awards Chair and for the excellent job he has done.