Welcome to Western Fictioneers
An organization of professional authors of western novels and short stories.
Greetings and Salutations to all the Western Fictioneers.
I learned today that I'd been elected as your president by an overwhelming majority of the vote. Or possibly by only one vote. But numbers don't matter. I am the president, and I'm honored to serve such a fine organization of writers.
We don't see a lot of westerns on the paperback racks now. (For that matter, we don't even see paperback racks.) Westerns on TV are hard to find, and western movies don't come along very often. It's a shame, for sure, but the members of Western Fictioneers keep the flame burning. A good many of you have not only continued to write high-quality western fiction but are actually making money at it, thanks to the eBook revolution. We old dogs have learned new tricks, and westerns are selling well, no matter what the traditional publishers say. Western Fictioneers keeps calling attention to the genre with the Peacemaker Awards, too, and I'm very proud to have won one of them.
I hope that in the next year, this group will continue to flourish and grow and that we'll see westerns continue to sell and to rise in prominence. If we all keep plugging, it can happen.
Western Fictioneers President 2016
Bill Crider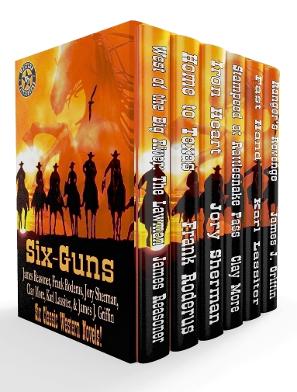 Two Box SetsNow on Sale 99 Cents From Western Fictioneers
Six classic Western novels. The good old shoot-'em-up westerns are still around, and this collection has six by the masters of the genre.
William M. "Bill" Tilghman had one of the most illustrious careers of any Old West lawman, but he faced perhaps his greatest and most dangerous challenge when he rode alone into the wild Oklahoma Territory settlement of Burnt Creek on the trail of a gang of rustlers and outlaws with some unexpected allies . . . THE LAWMAN, by New York Times bestselling author James Reasoner, is the first novel in the West of the Big River series.
In Frank Roderus' HOME TO TEXAS, Charlie McMurty brought a herd north, got a great price, and had enough left over once he repaid his neighbors to buy a ranch so he could ask for the hand of his sweetheart. Unfortunately, on the way back to Texas he was robbed and left for dead. To make matters worse one of his attackers was his friend he'd hired to help him with the herd. All he had left was a big debt back home and a big hole in his chest. His new quest became the need to be able to return his neighbor's money. First he had to heal and learn some fancy shooting.
Violence stole young Ben Brand's family from him, but blessed with uncanny speed and skill with a gun and befriended by an old mountain man, Ben sets out on a bloody quest for vengeance. As he tracks his enemies over the years and the miles, Ben battles men and the elements—and risks his own soul—to become the avenging nemesis known as Iron Heart! Long out of print and originally published under the pseudonym Walt Denver, IRON HEART is a classic Western from Jory Sherman.
Veteran author Clay More spins a fast-paced Western adventure in STAMPEDE AT RATTLESNAKE PASS. With her father murdered and her brother crippled by bushwhackers, half her herd stolen and her crew massacred by vicious rustlers, beautiful blond Elly Horrocks is going to have her hands full keeping the family ranch going. Luckily for Elly, drifting cowpoke Jake Scudder has a nose for trouble. It'll take all of Scudder's skill with guns and fists to save himself and keep Elly from being wiped out. Diamondbacks aren't the deadliest varmints in Rattlesnake Pass anymore!
Some men deserved to die like rabid animals. In FAST HAND the Thornberrys and their worthless cousin counted among those the world would be better off without. Judge Sebastian Hand sentences the Thornberry gang to the gallows for rape and murder. But when they escape, the judge trades in his gavel for a gun, and suddenly he's judge, jury, and executioner all in one. Karl Lassiter is the pen name of a prolific author who also writes under the pen name Jackson Lowry.
James J. Griffin's famous character Texas Ranger Jim Blawcyzk isn't really working for the Rangers this time. In fact, he winds up on the wrong side of the law with the Rangers after him, because he takes off his badge and goes after the gang that attacked and possibly murdered his wife and son. As a result, RANGER'S REVENGE is a little grittier than Griffin's earlier books, but it has the same fine action scenes, interesting settings, and welcome touches of humor.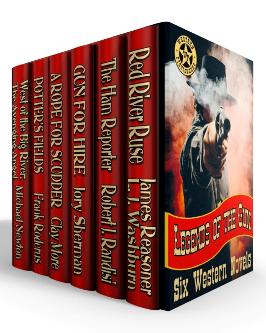 Legends of the Gun: Six Classic Western Novels by James Reasoner, Frank Roderus, Robert J. Randisi, Jory Sherman, Michael Newton, Clay More, L. J. Washburn
The good old shoot-'em-up westerns are still around, and this collection has six by the masters of the genre.

West of the Big River: The Avenging Angel by Michael Newton – Orrin Porter Rockwell is more than just a deputy United States marshal and a deadly gunfighter. He's a member of the Mormon Danites, the group of enforcers known as the Avenging Angels, and he's the personal troubleshooter for Governor Brigham Young. And when Young sends Rockwell to the rough-and-tumble mining town of Tartarus, there'll be plenty of trouble for him to shoot. Award-winning author Michael Newton spins an action-packed, historically accurate yarn in THE AVENGING ANGEL.

The classic, Spur Award-winning novel by Frank Roderus, POTTER'S FIELDS is the story of Joe Potter, a man haunted by the past who deals with the harsh realities of the frontier by becoming harsh and violent himself. A former lawman no longer able to find work carrying a badge because of his corruption and brutality, Potter becomes a cowboy and spends the winter in an isolated line shack, where the arrival of a stranger forces him to confront himself and his past. Rich with poignant emotion and vividly detailed ranch life, POTTER'S FIELDS is a novel that will stay with the reader long after the story is over.

Jake Scudder is just a drifting, peace-loving cowboy. So why does he find himself in jail, convicted of the murder of an old-timer he had befriended and sentenced to hang for that crime he didn't commit? Jake gets a chance to clear his name when the train taking him to the gallows crashes, but was that wreck an accident? Who's the real ringleader of the gang of vicious outlaws known as the Marauders? Jake Scudder has to dodge not only the law but also a cunning murderer as he attempts to save his own life and that of a beautiful young woman. A ROPE FOR SCUDDER is another classic, action-packed Western from bestselling author Clay More.

A fortune in gold dust, two beautiful women, a pair of deadly bushwhackers gunning for him, a dangerous blizzard, an avalanche, and an unknown plotter masterminding murder and robbery . . . These are just some of the things Clay Brand has to deal with when he signs on to guard gold shipments coming down from the mining country in California's San Bernardino Mountains. But before Clay can get to the bottom of the violence plaguing the mountains, he'll have to shoot straight and fast and escape the unexpected menace of a lynch mob! GUN FOR HIRE is the first Western ever written by acclaimed author Jory Sherman. Includes a new introduction by the author written especially for this volume in the Western Fictioneers Library.

In THE HAM REPORTER by Robert J. Randisi, Bat Masterson is no longer a sheriff in the Old West. He's moved East to New York City where he gets a job as a sports writer for The Morning Telegraph. But when his friend and fellow-newsman, Inkspot Jones, disappears, Masterson's wife Emma asks if he could look into it as a favor to the man's wife. It doesn't look hopeful—Inkspot had something on somebody, and that somebody may have decided to play rough. Pretty soon they're up to their eyeballs in crooked politicians, hired thugs and a woman of mystery. And before it's done, Bat may have to strap on his Colt again for some old fashioned Western justice.

Lawyer Billy Cambridge, a retired Texas Ranger, and his best friend, vaquero and ranch foreman Nacho Graves, set out by stagecoach from Pecos, Texas, to deliver $20,000 in cash to a client in Fort Smith, Arkansas. When the stagecoach is held up and Cambridge and Nacho lose the twenty grand, they set out on a dangerous quest to recover the money and bring the outlaws to justice…a quest that leads them to beautiful women, cold-blooded killers, the last Comanchero, and more surprises than they're ready to face. RED RIVER RUSE is a fast-moving Western novel packed with action, emotion, and danger, from award-winning, bestselling authors James Reasoner and L.J. Washburn.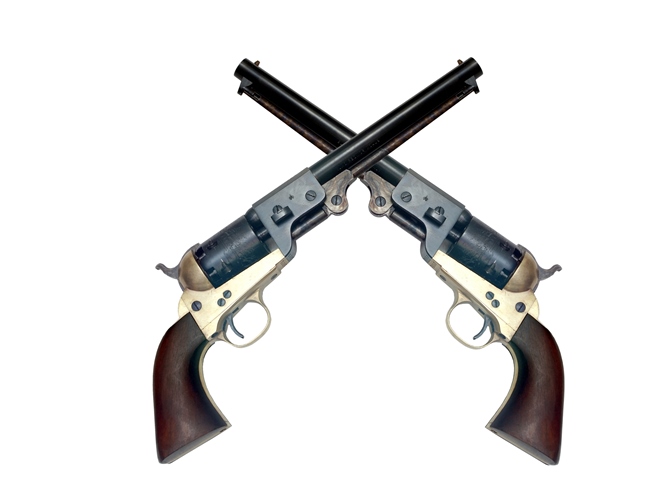 Western Fictioneers (WF) was formed in 2010 by Robert J. Randisi, James Reasoner, Frank Roderus, and other professional Western writers, to preserve, honor, and promote traditional Western writing in the 21st century. Entries were accepted in both print and electronic forms. The Peacemaker Awards are given out annually. Submissions for the Peacemaker Awards for books published in 2015 will be open in July, 2015. Submission guidelines will be posted on the WF web site.